PASSENGER VESSEL 22M 195 SEATS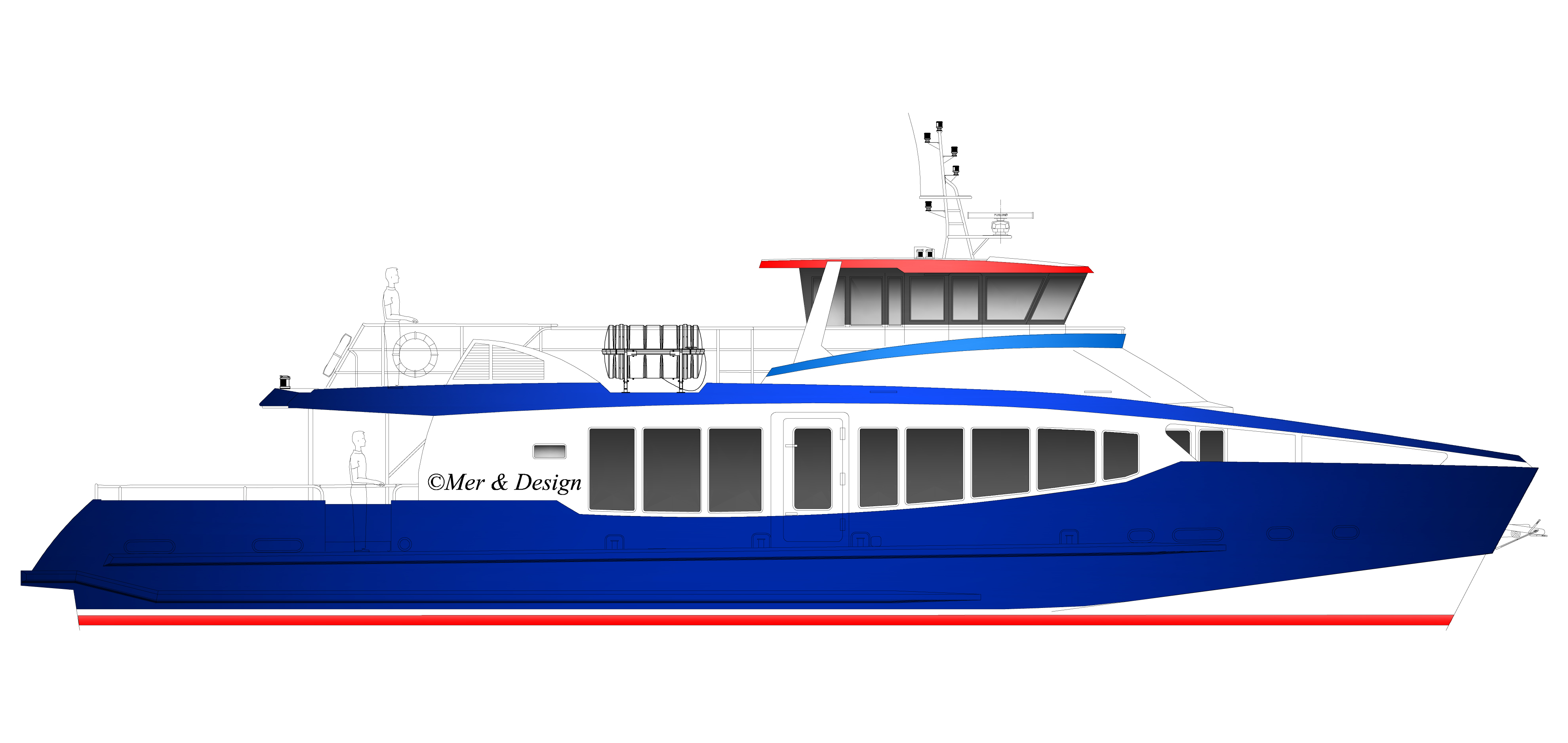 This
Aluminium

Passengers Shuttle,

23.00m

long and

6.70m

wide is approved to Maritime French standards.
Its total capacity is
195 passengers

in 4th category and 168 in 3rd category in addition to the pilot and three crew members.
Her deck plan is rational and effective and provides good passenger flow, layout and seating have been designed for comfort.
Passengers experience numerous improvements (
Hybrid Parallel Propulsion,

 quietness thanks to Soundproofing). Thanks to its solutions proposed by shipyard maintenance is made easy (engine hatch opens-up for easy access, working bench is set in the front compartment, Pumps in place to renew engine oil, etc.)
Semi-planing monohull for Passenger Transportation
Naval Architect
Mer et Design
Construction material
Marine Aluminium
Passenger vessel compliant with French regulations
Drawing Approval by Bureau Veritas
Building Survey by Bureau Veritas
Shipyard visits by a Marine Affairs Inspector
Passengers
195 in 4th catégory / 168 in 3rd catégory
Fresh Water Capacity
500L
Black Water Capacity
2* 150L
Propulsion type
Inboard Diesel
Max. Power
2* Caterpillar C18 814HP @2100 RPM
Max. speed
approx. 20 knots
Engine Ventilation
Input 2* 10.000 m³/h + output 2* 4000 m³/h
Engine deck hatches on jack above engines
Helm angle sensor and indicator
Hydraulic bypass and manual safety steering system
Noise and Vibration Reduction System
Aluminium honeycomb panel ceiling planking in wheelhouse and passenger saloon
Glasses and Windows in wheelhouse and passenger saloon
Fusion audio system
VIP upholstered seat in the saloon
Fireproof Aluminium passengers seats outside
Confortable Pilot Seat
2 Dometic toilets (1 disabled)
LED lighting
Mader waterborne painting cycle with low environmental impact and epoxy filler finish
Navigation system Simrad NSS9 evo2 GPS pack + GPS Antenna
BR3G Simrad Radar
2 RS12 Simrad VHF
1 Sailor SP3520 portable VHF
S100 Ocean Signal Transponder SART
Lalizas Compass
Ocean Signal E100G EPIRB Tag
3000W Quick Electric Windlass
Mooring
Hight performance Rocna Anchor
2 Optima engine packs
24V 75 Amp
1 Optima windlass pack
24V 75 Amp
1 service pack
24V 200 Amp
1 safety pack
24V 150 Amp
1 radio safety pack
12V 110 Amp
2 battery charger
24V 30 Amp
Marinelec Regulatory Lights Supervision System
Regulatory Lights
Marinelec Fire Detection System
Saint-Gobain rockwool Engine room Fire Protection insulation
Novec extingishing system
Main bilge pump on one thermal engine + fire hose
Additional independent diesel pump on deck
Marinelec Water Detection System
Thermal engine driven valved pipe system enabling draining of each compartment
Independant diesel pump can be plugged into pipe network
Approved Safety System
Pneumatic lifting of rafts initiated from the wheelhouse
Upgrade Hybrid Parallel Propulsion System
(for crossing protected areas at hull speed)
Propulsion type
Inboard Hybride
Diesel Propulsion
2* Caterpillar C18 814HP @2100 RPM
Electric Propulsion
2* 80Kw
Battery Type
Lithium Iron Phosphate
Battery Charger
380V / 60A
Diesel Max. Speed
approx. 20 knots
Electric Max. Speed
approx. 8.5 knots
Electric Cruising Speed
approx. 6.5 knots
Electric Autonomy at Cruissing Speed
2h à 6.5 knots
2* Volvo D16 750HP @1900 RMP + 2* ZF655A
SCR Catalyst System
(2* Volvo D16 750HP @1900 RMP)
(Selective Catalyst System – IMO III / EPA IV compliant)
2* Baudouin 8M26.2 800HP @1950 RPM + 2* ZF 2050A (ratio 2.5)
2* Scania DI 16 072 700HP @2100 RPM + 2* ZF 510-1A
2* John Deere 6135SFM85 650HP @2100 RPM + 2* ZF 500-1A
2* Volvo D13 600HP @1900 RPM + 2* ZF400A
SCR Catalyst System
(2* Volvo D13 600HP @1900 RPM)
(Selective Catalyst System – IMO III / EPA IV compliant)
2* Volvo D13 500HP @1800 RPM + 2* ZF 360A
SCR Catalyst System
(2* Volvo D13 500HP @1800 RPM)
(Selective Catalyst System – IMO III / EPA IV compliant)
2* Cummins QSL9 400HP @2100 RPM + 2* ZF 325A
Quick MC2 40K / 6.8 kW Anti-roll gyro stabilizer
Wheelhouse Air-conditioning Firgomar 8.000BTU / 1.5kW
Wheelhouse and passenger lounge main bridge Air-conditioning Frigomar 140.000BTU / 11kW
Side Power 48V 15kW / 300kg / Ø300mm Bow thruster
Flexiteek 2G main Deck
Flexiteek 2G Top Deck
Océan 3 Fenders
220V 11kW Onan genset
220V 27kW Onan genset
6kW electric heater for the passenger lounge and 2kW for the wheelhouse
LS Electro-hydraulic pump
Simrad autopilot + Gyrocompass
1200W solar panels on service batteries
8 Camera Video System Engine room monitoring and navigation assistance
220V / 1kW Gianneschi black water pump
Coupled pump with bronze impeller instead of neoprene impeller
SS60 Airmar Depth Sensor
EEBD Lalizas – Emergency Evacuation Breathing Device
Spare upholstery VIP seat
Low environment impact antifouling
(Included in Hybrid Parallel & 100% Electric options)
Vessel Monitoring System

Bilge monitoring (replacing the Marinelec central panel)
Navigation lights monitoring (replacing the Marinelec control panel)
Service and battery pack, windlass / bow thruster monitoring
Tank monitoring (diesel, fresh water, black water)
Diesel engine monitoring
GPS Monitoring
Lithium battery pack monitoring (hybrid version only)
Electric Motor Monitoring (hybrid version only)
Insulation monitoring between electrical circuits and hull
Structure vertical acceleration monitoring
4G connectivity and remote operator interface